The Power of Visual Data; Beyond Exceptional

PLUG - Let Me Show You Something You Won't Believe
Small Cap Technology: The Firms that are Beyond Exceptional
TWTR - Six Charts: Everything You Know May be Wrong
TSLA - 10 Charts That Will Challenge Your Conviction
This is a follow up to the post on AAPL
AAPL - The Most Powerful Chart You've Ever Seen: A Perfect Valuation
Conclusion
The same chart we used to value AAPL, as simple as it comes, of total revenue (TTM) to stock price over the last 10-years from, which made an argument that not only have we found a perfect valuation methodology for AAPL, but that AAPL is priced perfectly, right now, is now included for GOOGL.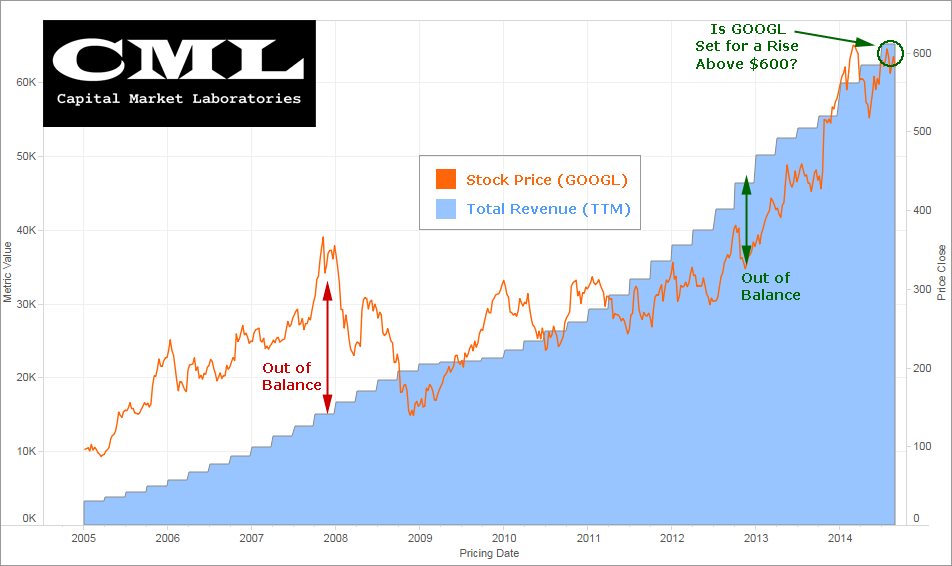 In this case, GOOGL tracks its revenue, but with greater volatility than AAPL. Ultimately, however, this measure of trailing twelve month (ttm) revenue to stock price may be the single best measure of mega cap technology valuation. This chart points to a pop in GOOGL to ~$600.
Here is a magnification of the end of that chart above.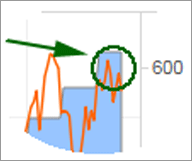 I do note that
GOOGL revenue had declined for three straight quarters prior to the most recent
. The numbers are include below. This may be the 'discount' to the stock price we see relative to the revenue chart.
________________________________
Details on Trailing Twelve Months (TTM):
Last 4 Quarters of GOOGL revenue in thousands:
15,955,000, 15,420,000, 16,858,000, 16,909,000.
Sum = 65,142,000
________________________________
What if we could look at 25,000 public companies in every region of the world (including frontier and emerging markets) and every financial, earnings & growth measure against stock price, against a custom peer group, in a time series or point-in-time, with charts that have 'living animated data' that moves, breathes, deletes and appears at your command?
We can... and now we do.
The Power of Visual Data is Beyond Exceptional
This is not a recommendation.
Follow @OphirGottlieb
Tweet
Legal Stuff:
Options involve risk. Prior to buying or selling an option, an investor must receive a copy of Characteristics and Risks of Standardized Options. Investors need a broker to trade options, and must meet suitability requirements.
The information contained on this site is provided for general informational purposes, as a convenience to the readers. The materials are not a substitute for obtaining professional advice from a qualified person, firm or corporation. Consult the appropriate professional advisor for more complete and current information. I am not engaged in rendering any legal or professional services by placing these general informational materials on this website.
I specifically disclaim any liability, whether based in contract, tort, strict liability or otherwise, for any direct, indirect, incidental, consequential, or special damages arising out of or in any way connected with access to or use of the site, even if I have been advised of the possibility of such damages, including liability in connection with mistakes or omissions in, or delays in transmission of, information to or from the user, interruptions in telecommunications connections to the site or viruses.
I make no representations or warranties about the accuracy or completeness of the information contained on this website. Any links provided to other server sites are offered as a matter of convenience and in no way are meant to imply that I endorse, sponsor, promote or am affiliated with the owners of or participants in those sites, or endorse any information contained on those sites, unless expressly stated.