AAPL - The Most Powerful Chart You've Ever Seen: A Perfect Valuation
TWTR - Six Charts: Everything You Know May be Wrong
TSLA - Ten Charts That Will Challenge Your Every Conviction
FB closed trading right at an all-time high. The Symbol Summary is included below.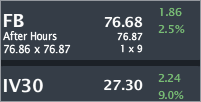 Provided by Livevol
Conclusion
When examining the financial, earnings & growth measures via visualizations, we can see the corner that FB turned several quarters ago and the drivers of it's massive climb into the top 20 largest companies in the United States.
This is a follow up to a prior post:
7-24-2014: FB - Earnings Postmortem: Did You Get All of This? Why FB is Now Larger than IBM
---
Facts from Last Time
FB is growing in every way you can compute growth.
Some growth rates are increasing slower because, and I say this honestly, they have reached almost every human being with a means to get onto the Internet.
FB still has its eyes wide open on growth and expansion and that means connecting more people to the Internet and grabbing shares of existing business lines.
FB also has its eyes wide open in plans to generate more revenue from the existing gigantic user base (see the 40 minutes per day commentary above as well as the videos on FB).
Competition now involves companies even larger than FB (see GOOGL).
FB is growing its digital worldwide advertising market which is at 6% compared to GOOG's 32%.
The company is ~the 20th largest in the world.
The P/E as of this writing is 98.40.
So, the company is "expensive" to this year's earnings, it is growing but that growth in some areas is necessarily slowing. There is am 800-pound gorilla in FB's biggest area of potential growth, and that gorilla is Google.
The valuation, in my opinion, is priced to almost perfect execution moving forward, but so far, that's exactly what Zuckerberg has delivered.
---
We'll start with the two-year stock chart.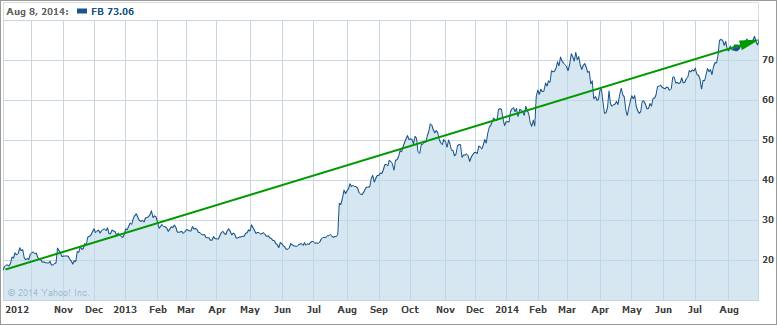 Provided by Yahoo! Finance
So that's the growth to the all-time high in the stock price... Let's look at four-charts that demonstrate rather clearly what financial measures have pushed the the massive growth in FB.
Revenue
FB revenue (ttm) has now reached over $10B. This is no longer 'that site where you look your friends pictures.' It's a giant of technology.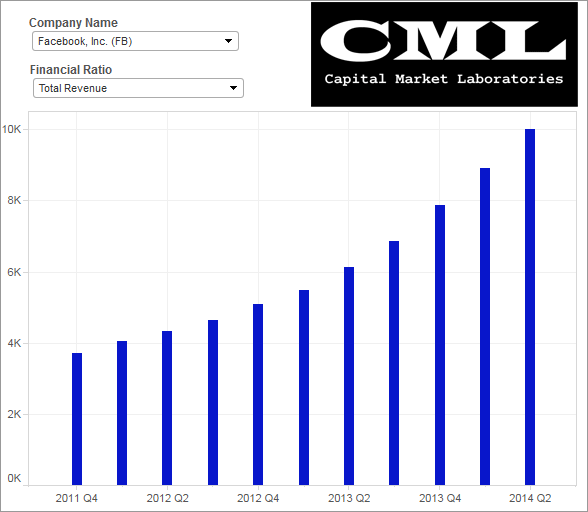 Net Income
Revenue is one-thing, but in order to become this large, a firm needs profits (AMZN excluded, lol). FB has shown incredible earnings growth.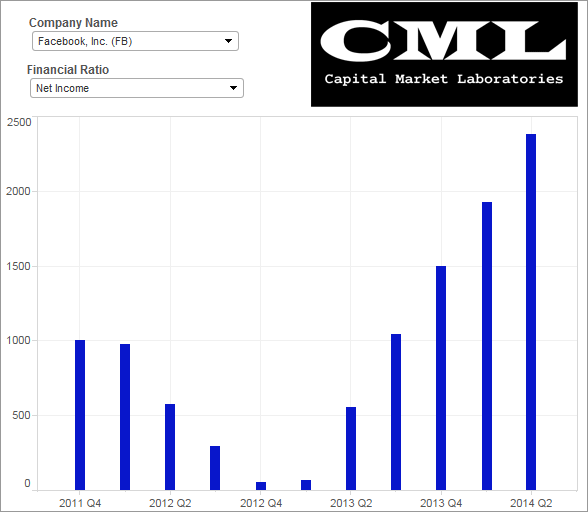 Gross Margin %
One of the most exciting aspects of FB as a business has always been its massive gross margins. That measure has been consistently high even as the firm matures, now topping 80%.
Book Value
The final chart shows the turnaround in FB book value, which is now at an all-time high (with the stock price).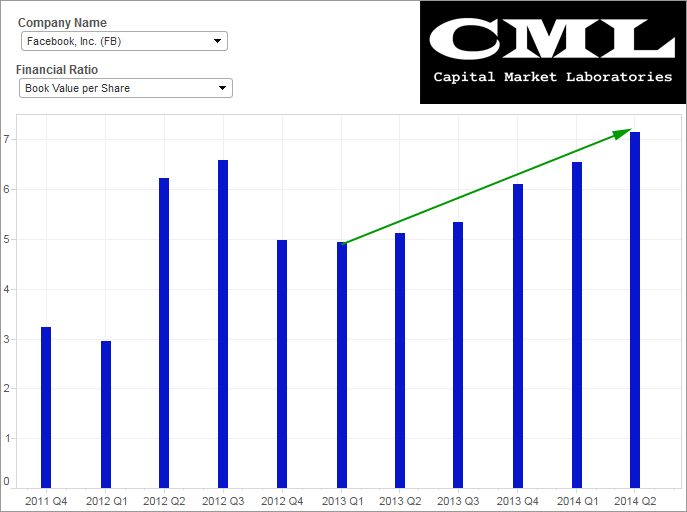 This is trade analysis, not a recommendation.
Follow @OphirGottlieb
Tweet
Legal Stuff:
Options involve risk. Prior to buying or selling an option, an investor must receive a copy of Characteristics and Risks of Standardized Options. Investors need a broker to trade options, and must meet suitability requirements.
The information contained on this site is provided for general informational purposes, as a convenience to the readers. The materials are not a substitute for obtaining professional advice from a qualified person, firm or corporation. Consult the appropriate professional advisor for more complete and current information. I am not engaged in rendering any legal or professional services by placing these general informational materials on this website.
I specifically disclaim any liability, whether based in contract, tort, strict liability or otherwise, for any direct, indirect, incidental, consequential, or special damages arising out of or in any way connected with access to or use of the site, even if I have been advised of the possibility of such damages, including liability in connection with mistakes or omissions in, or delays in transmission of, information to or from the user, interruptions in telecommunications connections to the site or viruses.
I make no representations or warranties about the accuracy or completeness of the information contained on this website. Any links provided to other server sites are offered as a matter of convenience and in no way are meant to imply that I endorse, sponsor, promote or am affiliated with the owners of or participants in those sites, or endorse any information contained on those sites, unless expressly stated.