IDCC is trading $45.08, up 20.5% with IV30™ up 12.7%. The Symbol Summary is included below.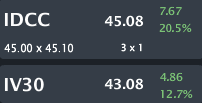 Provided by Livevol
This is a stock and order flow note, one which may point to improprietous usage of insider information ahead of huge news today. Let's start simple, here's the news moving the stock:
---
NEW YORK (TheStreet) -- InterDigital stock is soaring Tuesday after the wireless telecom updated its expectations for second-quarter revenue far above analysts' estimates. The company said it expects sales between $172 million and $210 million,
triple prior guidance
of $65 million to $72 million. Analysts surveyed by Thomson Reuters anticipated revenue of $48.6 million.
Source: TheStreet.com via Yahoo! Finance
Why InterDigital (IDCC) Stock Is Up Today
---
First note that IDCC
just released earnings on May 1st
... more on that in a sec.
I bolded that piece in the middle to draw out the point that this was
not just a small guidance revision, this was huge
. IDCC is essentially
a totally different company based on this guidance
, and that means lots of people could have been aware of the news. When sales move so much higher and so quickly, there would be dozens (at least) of people that would recognize this change whether they be employees, supply chain members, customers or, of course, top executives. In this case, I think someone may have caught on and traded ahead of the news.
Let's see the circumstantial evidence -- at that's all it is; circumstantial.
The two-year stock chart is included below.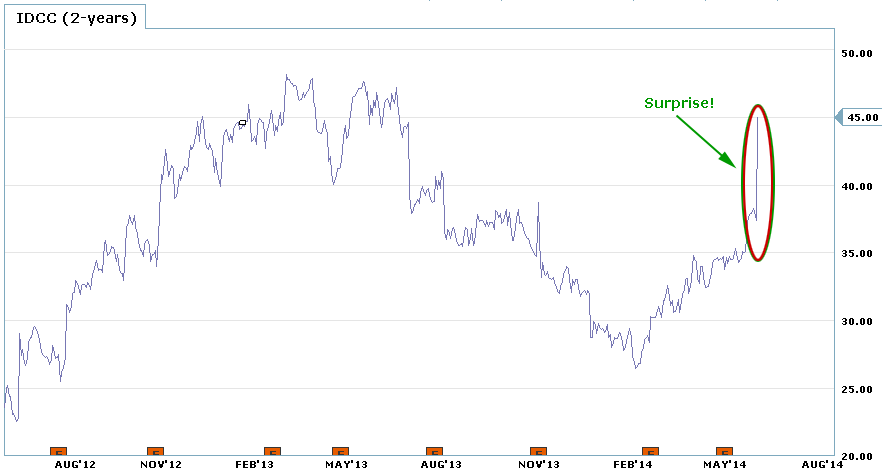 Provided by Charles Schwab optionsXpress
We can see how abrupt the move is today, but we can also see that the stock was trading at ~ $27 in Feb and had seen a large recovery before this news.
OK.. onto the potential shenanigans. Let's turn to a snippet from the Stats Tab, below.

Provided by Livevol
Fact #1
: Over the last three-months the company has averaged 649 calls traded a day across all strikes and all months.
Now, let's turn to the open interest chart for just the Jun 40 calls, below.

Provided by Livevol
Fact #2
: On 5-13-14, 2,102 Jun 40 calls traded for ~ $0.35 with the stock at $34.91. That's 3x the total daily average volume across all strikes and all expiries.
I have included the option montage as of the close on 5-13-14.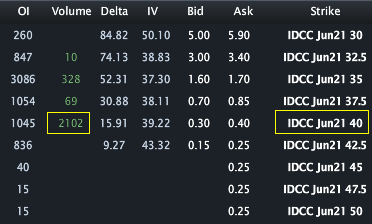 Provided by Livevol
Fast forward three weeks, and IDCC announces a triple in revenue well ahead of the expected earnings release in late July.
So here's where it gets weird... yes the volume is odd and large... but the timing makes me consider this a "bad-boy" (or girl) that made some huge money.
IDCC just releases earnings on May 1st, so about a month ago. It's quite odd for a firm to pre-announce just one-month into the next quarter that sales will be 300% what was expected. I mean, when has that happened? And wouldn't the pre-release normally come out a bit later in the quarter to verify the news?
If we look back at that news snippet, we can see the range for revenues is now $172M - $210M. That range is $28M wide. So what?...
The original forecast was $65M-$72M. So the width of the new revenue projection ($28M) is 40% of the initial forecast. That's crazy...
Why crazy? The firm knows two things now:
1. Sales will be blow out.
2. Sales will be in some extraordinarily wide range.
What if the firm waited a month for better visibility? Well, if the firm had waited until after Jun 20th, this option bet would be worth $0.
And how much is it worth today? Let's turn to the Options Tab, below.

Provided by Livevol
Fact #3:
The Jun 40 calls are worth $5.20, up 1385% in a month from the $0.35 purchase. So a $35,000 bet is now worth $520,000. That original bet size is very "retaily" i.e. not big. I think someone may have caught wind somewhere inside the firm or in the supply chain (or a customer).
Could this be coincidence? Yes, absolutely
Do I think this is coincidence? No.
This is trade analysis, not a recommendation.
Follow @OphirGottlieb
Tweet
Legal Stuff:
Options involve risk. Prior to buying or selling an option, an investor must receive a copy of Characteristics and Risks of Standardized Options. Investors need a broker to trade options, and must meet suitability requirements.
The information contained on this site is provided for general informational purposes, as a convenience to the readers. The materials are not a substitute for obtaining professional advice from a qualified person, firm or corporation. Consult the appropriate professional advisor for more complete and current information. I am not engaged in rendering any legal or professional services by placing these general informational materials on this website.
I specifically disclaim any liability, whether based in contract, tort, strict liability or otherwise, for any direct, indirect, incidental, consequential, or special damages arising out of or in any way connected with access to or use of the site, even if I have been advised of the possibility of such damages, including liability in connection with mistakes or omissions in, or delays in transmission of, information to or from the user, interruptions in telecommunications connections to the site or viruses.
I make no representations or warranties about the accuracy or completeness of the information contained on this website. Any links provided to other server sites are offered as a matter of convenience and in no way are meant to imply that I endorse, sponsor, promote or am affiliated with the owners of or participants in those sites, or endorse any information contained on those sites, unless expressly stated.