GOGO is trading $18.79, up 3.9% with IV30™ up 0.3%. The Symbol Summary is included below.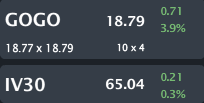 Provided by Livevol
----------
UPDATE 6-10-2014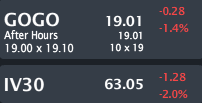 Provided by Livevol
The stock has now risen above $19.00, for greater than a 60% rise since the lows reached one-month ago.
----------
Back to June 4th...
Conclusion
This is a stock and volatility story in a heavily followed name that was smacked down on news of competition from AT&T, but since then, in a very short period of time (~3 weeks) has risen 57%. A MOMO move is one thing, but this is not just a correlation move, this is a company specific move.
Let's start simple, with the stock charts (all-time), below.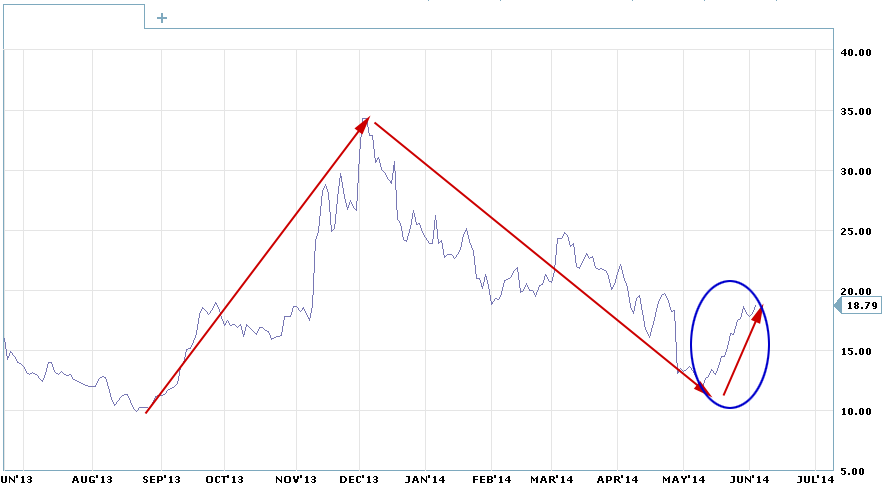 Provided by Charles Schwab optionsXpress
So we can see that huge rise from $10 to ~$35 in a matter of months, then the abrupt correction all the way back down to ~$12, and recently, the equally abrupt 57% rise in three weeks.
Let's hyper focus on the last three-weeks, in a more myopic stock chart, below.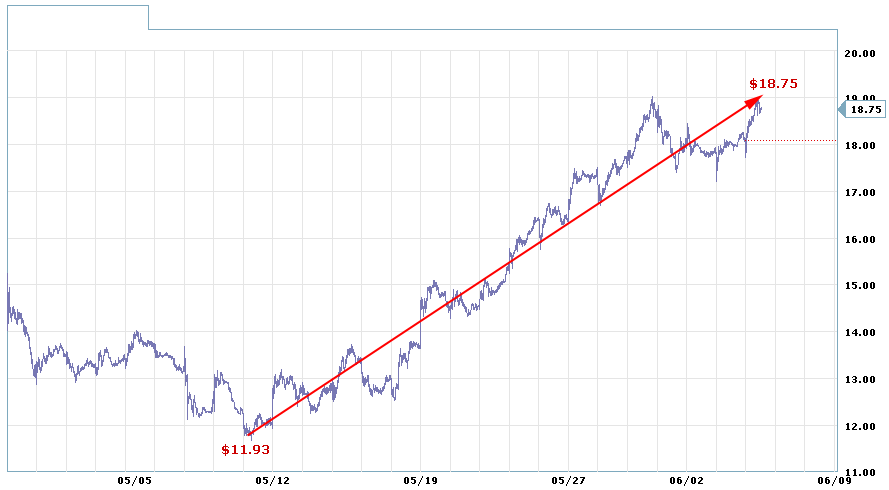 Provided by Charles Schwab optionsXpress
That low of $11.93 was hit right in front of an earnings report and after news of new competition from AT&T. I wrote about that event and earnings. You can read that post here:
GOGO - Earnings Results Postmortem: How the Good News... May Not Have Been that Good...
As it turns out, the competition from AT&T was originally digested as a scare, but has actually now propelled the stock forward as people dig deeper and recognize that this statement...:
"The simple answer is our next-generation solutions … will be faster and will be flying sooner than AT&T's proposed solutions," (Chief Executive Officer Michael Small).
... may actually be true.
And so we have it, the stock has rocketed higher, more so than any MOMO, even more than NFLX. But what does the option market have to say?
Let's turn to the IV30™ chart in isolation, below.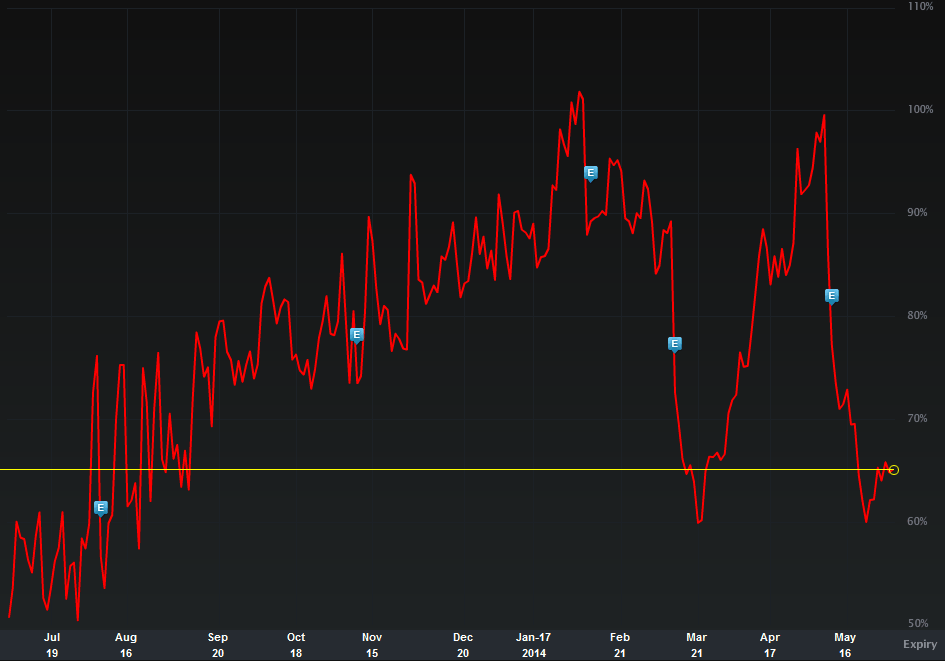 Provided by Livevol
The implied volatility is the forward looking risk in the equity price as reflected by the option market (IV30™ looks forward exactly 30 calendar days). We can see the the IV30™ is quite low relative to GOGO's past. The volatility crush after the earnings release is normal and expected (news comes out, risk goes down), but the continued drop from that point (the blue "E" icon represents the earnings date) as the stock has climbed so much is a little... weird...
As of right now, GOGO's IV30™ is in the 28th percentile relative to the last year, so, kinda low... with the stock moving, kinda not a little.
Unlike some of the other companies I have written about, like FCEL (and YELP), the financials for GOGO look strong.

NASSAQ.com
We can see all profit margin ratios are increasing and at all-time highs for the firm. For a totally different picture of a MOMO stock, you can read the post from last night on FCEL, below
FuelCell (FCEL) - Earnings Postmortem & How This Growth Story Just Isn't... At All...
Finally, the Options Tab is included below.

Provided by Livevol
If we use the at-the-money (ATM) $19 strike price, we can see exactly the price range that the option market reflects for FCEL stock by Jun 20th: [$17, $21].
If you believe the stock will be outside that range on expiry or any date before then, then you think the volatility is too low.
If you believe that range is too wide, and that the stock will definitively be in that range on expiration, then you think volatility is too high.
If you're not sure, and can make an argument for either case, then you think volatility is priced just about right.
This is trade analysis, not a recommendation.
Follow @OphirGottlieb
Tweet
Legal Stuff:
Options involve risk. Prior to buying or selling an option, an investor must receive a copy of Characteristics and Risks of Standardized Options. Investors need a broker to trade options, and must meet suitability requirements.
The information contained on this site is provided for general informational purposes, as a convenience to the readers. The materials are not a substitute for obtaining professional advice from a qualified person, firm or corporation. Consult the appropriate professional advisor for more complete and current information. I am not engaged in rendering any legal or professional services by placing these general informational materials on this website.
I specifically disclaim any liability, whether based in contract, tort, strict liability or otherwise, for any direct, indirect, incidental, consequential, or special damages arising out of or in any way connected with access to or use of the site, even if I have been advised of the possibility of such damages, including liability in connection with mistakes or omissions in, or delays in transmission of, information to or from the user, interruptions in telecommunications connections to the site or viruses.
I make no representations or warranties about the accuracy or completeness of the information contained on this website. Any links provided to other server sites are offered as a matter of convenience and in no way are meant to imply that I endorse, sponsor, promote or am affiliated with the owners of or participants in those sites, or endorse any information contained on those sites, unless expressly stated.